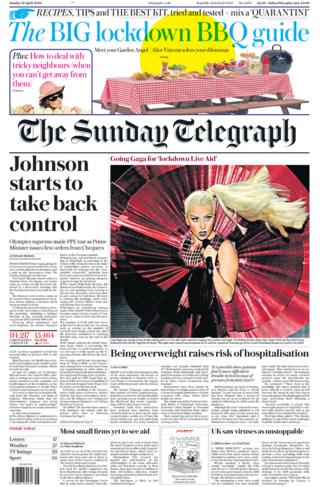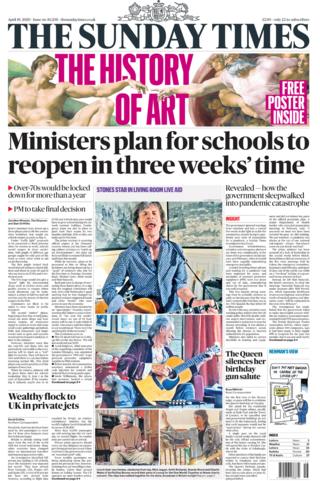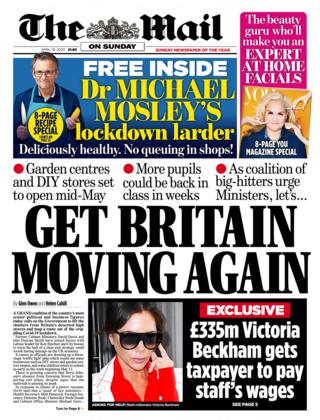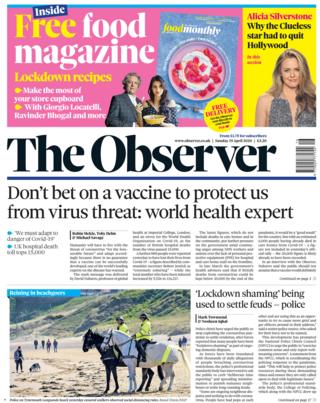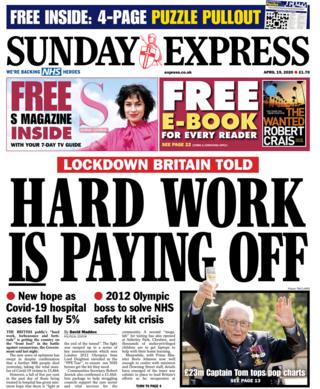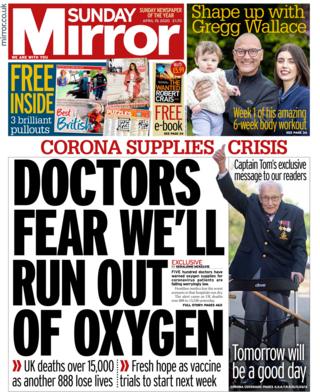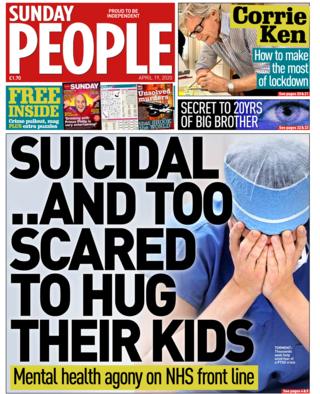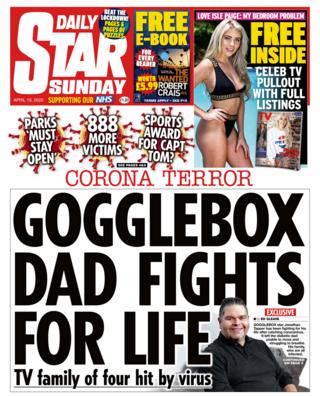 Many of Sunday's front pages focus on the UK's possible exit strategy from the coronavirus lockdown.
The Sunday Times reports that ministers have drawn up a three-phase plan to lift the restrictions, which could see school's reopen as early as 11 May. Under the proposals, it says pupils would return to classes part-time – depending on their age – to aid social distancing.
The Sun on Sunday calls it a "traffic-light master plan", which would see non-essential shops reopen within three weeks as part of a "red phase", before some restaurants are allowed to operate a fortnight later in the "amber phase". 
Both papers say the over-70s and others deemed vulnerable would be asked to continue living under lockdown conditions for more than a year. The plans will reportedly be presented to Prime Minister Boris Johnson when he returns to work.
There is speculation in many papers about just when that may be. The Mail on Sunday says there is growing concern that Mr Johnson's absence from Downing Street is hampering exit planning. In its editorial, the paper says recent figures suggesting a fall in hospital admissions are a cause for optimism.
Yet it laments what it calls "a sense of drift from inside government" with Whitehall leaks suggesting senior ministers are reluctant to take any major decisions on ending the lockdown in the prime minister's absence. The paper urges the government to "offer a vision of a way back to a free and normal life".
Get news from the BBC in your inbox, each weekday morning
But, while there are calls to concentrate minds on the future, there is also a continued focus on the predicament of NHS workers dealing with the virus here and now.
The Sunday Mirror says 500 doctors – who responded to a survey by the BMA – have warned that oxygen supplies are are running "worryingly low" at a "huge number" of hospitals. The paper says medics have laid bare "a horrifying lack of key supplies" – with hundreds of doctors saying they're short of sedatives, painkillers and anaesthetics and one nurse admitting she has had to reuse syringes.
The Sunday People says thousands of health workers have turned to mental health crisis helplines as they struggle to cope with what it describes as "the horrors of the coronavirus frontline". "Suicidal and afraid to hug their kids," is the paper's front page headline. One charity alone says it is being contacted by 50 health workers a day – amid fears that many staff will be affected by post traumatic stress disorder.
The Sunday Telegraph reports on emerging research about precisely who is at greater risk of being admitted to hospital with a severe form of the virus. The paper says a study into British patients suggests being overweight is one of the most important risk factors. The research – which has yet to be peer-reviewed – is based on an analysis of more than 15,000 cases and is said to be the biggest study of its kind.
Meanwhile, the Observer reports on concerns that so-called "lockdown shaming" is being used as a weapon in long-running neighbourhood feuds. The paper says police chiefs have complained about a rising number of false allegations being made about people breaking social distancing rules. Senior officers are urging the public to use "common sense" and not to exploit the pandemic to settle old scores.